Give Me Chocolate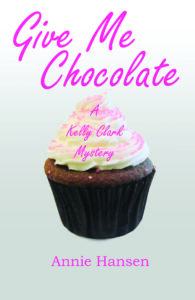 In the quaint river town of Geneva, IL, Kelly Clark flees California and returns to her hometown to re-start her life after a horrific divorce from an abusive husband. She accepts her sister's generous offer to live in the apartment above Chocolate Love, her sister's specialty dessert shop in the Historic District of Geneva.
Kelly's life starts to turn around when she reconnects with an old flame. Just when it looks like she is getting her life back on track, she stumbles over a dead body in the kitchen of Chocolate Love. The suspicious death of a Chocolate Love employee sends her hopes for a better future plummeting. Has her violent past and the danger she faced in California followed her home to Geneva?
Give Me Chocolate (Annie Hansen)-Recipient of the Mystery Writers of America 2011 Helen McCloy/MWA Scholarship:
~~Mystery Writers of America, www.mysterywriters.org
Annie M. Hansen's novel Give Me Chocolate received the highest scores from this year's panel of judges because of the promising writing ability she demonstrated.
Ms. Hansen's Kelly Clark…discovers that her husband has impregnated another woman, but when she learns his solution is murder, Kelly reports him and he's tried and incarcerated. Three years later, Kelly is living in another state above a family-owned shop "Chocolate Love." When a former acquaintance drowns under suspicious circumstances, Kelly fears a repeat of her turbulent past. She knows she must unravel this mystery or she could be next.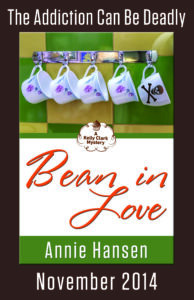 Bean in Love
Rumors of a local ghost in small-town Geneva cause real distress for mystery novelist, Kelly Clark, at a time when her life is going great. She's moving on from her troubled past, her books are selling, and she's newly in love. But when a local dies across the street from Kelly's apartment in the Geneva History Museum under suspicious circumstances, Nikki, Kelly's sister, calls upon her to help figure out what happened. Despite Kelly's reluctance to get involved with the investigation, she and her sister team up to try and solve the mystery.
Did a ghost really have a hand in the death or are the sisters allowing a local legend of a haunting skew their judgment? Their paths divided, Nikki focuses on opening a new coffee shop as Kelly is haunted by nightmares and memories from her past. Things get even more complicated as the Clark sisters face an unexpected pregnancy, a surprise proposal, and a possible foreclosure. Her relationships crumbling, Kelly questions if she is really moving on with her life, or if she's just fooling herself. Can Kelly leave her past behind and focus on solving the mystery? Or will Kelly continue to be plagued with nightmares and run away from everything good in her life?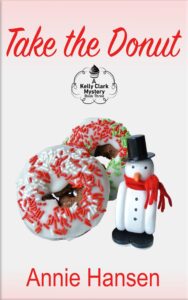 Take the Donut
The third novel in The Kelly Clark Mystery Series-Annie Hansen's Take the Donut, A Kelly Clark Mystery, takes the reader further into Kelly's mysterious back story. Kelly's past has been something she's been trying to hide from, but when a new piece of evidence is brought to light, she is tempted to try and change the story altogether.
Kelly Clark has spent the last three years of her life running from her tumultuous past. With her violent ex-husband, Steve, locked up, Kelly is now in a supportive and loving relationship with her boyfriend, Jack, and reconnecting with her two sisters. Kelly finds time to help her sister, Adelle, launch a new donut business, while also getting her parents to move back to their hometown of Geneva, IL from their home in Miami. But when a jailbreak at Steve's prison threatens her safety, Kelly is drawn once again to solving the mystery of what made her ex-husband derail in the first place. When Kelly finds out one of her close family members may have been involved in Steve's fraudulent money schemes, Kelly begins to doubt everyone around her. Did she trust the wrong people? Is Steve coming back to get his revenge on Kelly? Featuring an interesting heroine who is determined to make a new start, Take the Donut is a cozy mystery that centers on temptation, family drama, greed, and sweet revenge.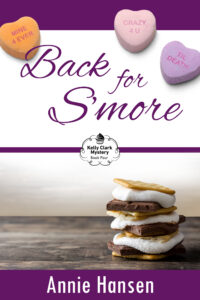 Back for S'more
In the fourth book of the Kelly Clark Mystery Series, Valentine's Day is approaching, and the quaint river town of Geneva is gearing up for a romantic, cozy celebration amidst snowflakes. Love is in the air, especially for Jack and Kelly, who find true love in each other's arms. There's only one little problem that stands in their way: Jack's estranged, pregnant wife, Callie, who's back in town after disappearing for years.
The divorce should be simple. Callie is pregnant with her rich, new boyfriend's child, and very clear that she wants the divorce from Jack so she can re-marry. But lost paperwork, a mysterious death within the law firm handling the divorce, and Callie's strange behavior have Jack and Kelly questioning if this is a string of bad luck or no coincidence at all.
Two women are after the same man. One, madly in love. The other, a stalker on the edge of madness. Is Kelly Clark willing to risk her life for love?